The last 2 weeks I've been off vacationing in northern MN and southern WI. While I was visiting my parents, I had the opportunity to run a half marathon with my dad.

The Eisenbahn Half was almost a comedy in errors. We left the finish area to be bussed to the start, except for the fact that our bus driver didn't know where the start was. Thankfully we ran into a couple ladies who lived close to the start and were walking there as a warm up. They were able to direct us to the start.

The start line was on a little country road out in the middle of nowhere. There would have been barely enough room for two cars to pass each other. The port-o-potties were all lined up on the side of the road. Add 200 runners, and you have very little room for cars to get by. Every time a car came through, the line pressed up as close to the port-o-potties as possible. Thankfully I was one of the first in line and didn't have to experience that =)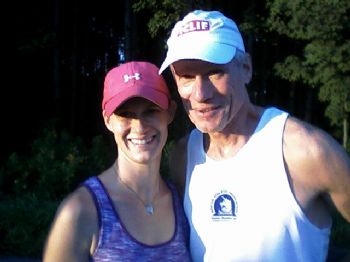 My dad and I at the start line.

Once the race started and the crowd thinned out, it got a lot better. My dad and I took off and the first 2 miles were on country roads. Right around 2 miles, the course joined up with the Eisenbahn Trail system. It's a converted rail bed made of crushed/ packed limestone. Not too much of a challenge for a normal runner, but I was wearing my VFF's =). My pace slowed a bit as a had to watch the trail closely to make sure I wasn't stepping on any large rocks. The next 9 miles were on this trail with a few road crossings.

Just past mile 11, the trail switched from gravel to paved. Oh, it felt like heaven lol! My pace drastically improved and my dad had a hard time keeping up =)

My dad and I at the finish.

Official stats:
Time: 1:47: 28
AP: 8:12 (although the last 2 miles were @ 7:40)
overall place: 18/ 197
females: 5/ 134
age group: 1/ 56

My dad and I were a little bummed to hear that they weren't giving out age group awards. We both took first (he was first for M60-99) and it would have been nice to get something. Or maybe I've just gotten spoiled at all the other races I've run this year =)