Yesterday I had the chance to run the DRC Breakfast Bash.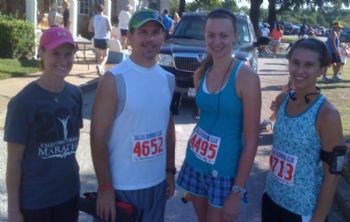 A couple friends and I at the end of the race.
It was an absolutely perfect day to run a race: nice and cool with hardly any humidity... I think we were still in TX =)
I got to the race nice and early and eventually met up with everyone. We stood around chatting for awhile and then L and I took off on a short warm up run. Yes, we're overachievers =) We got back to the start line and waited for the horn. There were probably close to 800 runners, so it took a bit to finally get across the line. Once across, I started weaving in and around other runners as I settled into my pace.
First mile went by pretty quick. The crowd started to thin out and I was able to settle in. AP: 7:47
During the second mile, I had to cross a bridge. This is the same bridge that gave me issues back in June... It was a surreal feeling to be running and then to have the bridge moving under you. But, I was ready for it this time and it didn't throw me off stride. AP: 7:30
The turnaround was at 2.5 miles (gotta love the hairpin turn arounds ;)) and I was able to cheer on my friends as we passed each other. What a great feeling =) AP: 7:32.
Into the fourth mile and it was back across the bridge. Was ready for it, but still got thrown off stride a little. There were a lot more people on the bridge this time. AP: 7:32
With about 0.75 miles left, I started to pick up the pace. Just started focusing on the people in front of me and started picking them off. Getting close to the finish, but not quite there =) AP: 7:07
The last 0.08 miles was an all out sprint. AP: 5:51 for 29 seconds =)
My finish time by the clock was 38:12, by my Garmin it was 38:00. Woo hoo! My fastest 5 miler since college =)
Once I got out of the finish chute, I headed back out to cheer on everyone else. A couple minutes after I finished, I was able to run in with L. Then I headed back out. Next, I was able to push J to kick it in at the finish. I went back out one last time to catch A, but I missed her =(
We all met back up and headed up the hill to grab some breakfast. We had breakfast burritos, donuts, bananas, coffee and lots of other drinks. While I was grabbing some water, I had an older gentleman tell me the he thought my shoes (bright blue VFF's) were kind of sexy…
Once the results were posted, we checked them out. I was listed as 3rd in my age group and 19th overall. But, when they called the results, I wasn't called =( Turns out they listed another runner in my age group in with the men and once they realized their mistake, I ended up 4th and 20th overall... I think. I haven't seen the official results posted yet.
Even with the disappointment over the results, I had a great day meeting up with friends and running. Thanks for a great day!